President's Message
2023 video coming soon!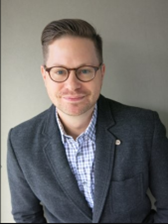 Bio: 
London Sanders is a Tennessee native who grew up in the farmlands just outside of Cleveland.  Descended from a long line of Tennessee farmers, he knew from a young age he wasn't cut out to do the same. Graduating from McCallie, he went on to attend Wittenberg University on a music scholarship where he earned a BA in East-Asian Studies and International Business Management after four years in Springfield, OH and one year abroad at Sophia University in Tokyo Japan.
Immediately after completing his education, he married his high school sweetheart and moved to Raleigh, NC where he began his career and got his start in project management at New Horizons Computer Learning Centers as operations manager and project coordinator for corporate trainings. After his wife's career took them to Southwestern Connecticut, he continued honing his project management skills in real estate as a home improvement contractor for several years before becoming a branch manager and seasonal project coordinator for H&R Block. 


In 2014 he and his growing family relocated to Zurich Switzerland for his wide's position at UBS Bank.  Living in Zurich as a stay-at-home dad, he completed his formal project management training and received his PMP certification in Stuttgart in 2015.  Upon returning to the States, he managed a team of billing and premium specialists at Unum for over two years and as well as earning his Six Sigma blackbelt for process improvements he implemented for the team.


Now back on the family farm with his wife and four children, he manages the PMO at Covenant Logistics where he helps coordinate a multi-million-dollar tech project portfolio and assist his small team of project managers deliver their projects on time, in scope, and within budget.